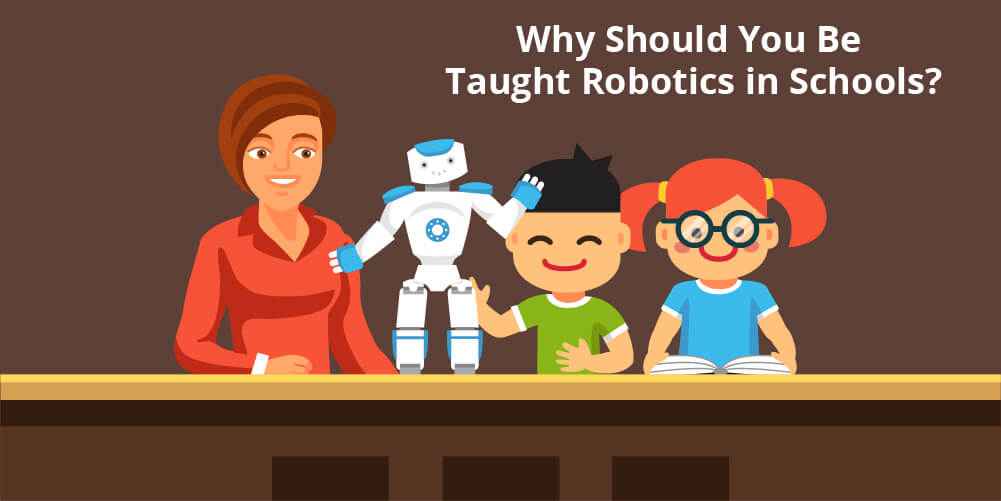 Why Should You Be Taught Robotics in Schools?
Did you know that the car in which your father drops you to school every day has been assembled by a robot? Or that the Pepsi cans you sip from, with your friends have been packaged by a robot?
Yes! Robots and AI are ruling over the world today, and gaining huge popularity due to their ability to save our time and efforts in almost all domains. In this technology-driven world, today it is more essential than ever to leverage robotics to make education more impactful. Robotics provides a microcosm of technologies that support STEM (Science, Technology, and Engineering & Mathematics) education. Apart from making education more fun, robots help you get familiar with many of fundamental STEM concepts by providing you with a playful and experiential learning platform. STEM education is crucial for the development of your logical, creative, critical and problem-solving skills. STEM subjects teach life-skills that are necessary for your overall personality development.
What is a Robot?
In simple words, we can describe a robot as a programmable machine that is capable of replacing humans in performing a wide range of tasks with speed and precision by executing user inputs. Robots can be controlled remotely by human operators, sometimes even from a great distance. Robots that resemble us (humans) are called androids and made up of a flesh-like material; however, all the robots are not built on the human model. There are industrial robots which are designed to perform reparative tasks. As the world is looking forward to a future fully run on artificial intelligence, you can expect these machines/gadgets to become an indispensable part of your life in the near future.
You must have heard about Amazon's voice bot 'Alexa,' which has created a revolutionary impact on our lives with its capability of learning new things through its sound interface. Humanoid robot 'Sofia' is the brightest example of the world's fast pace of moving into a future full of robots equipped with AI.
What Robotics teaches you?
Fundamentals of engineering
Science of mechanical systems
Core understanding of technology
Basics of electronics and electrical systems
Programming concepts and logically applied math
Soft skills like leadership, team spirit and problem-solving
Why should it be taught in schools?
Introduces you to programming
Programming a computer is an excellent skill. Most children often find programming too complex to grasp, but thanks to robotics, it makes programming very simple to understand.
Makes you more creative
As robotics is a production-based learning module, you get the opportunity to create something new and make it perform as you wish it to. When you are provided with the opportunity to create something interactive, your engagement levels increases and you retain more knowledge.
Helps you channel frustration into innovation
When you find any STEM concept too complex and struggle to understand at first, you often get frustrated. Robotics can help you turn your frustration into creativity and build many new and interesting things. It helps you try harder and aim higher. It not only teaches you how to persist and solve a problem, but also helps you increase your maturity levels and prepare you for real-world situations.
In a Nutshell
Exploring what machines can do for us and what they can't is the best way to address your fears and learn new things. Robotics is a field that helps you identify your hidden talent. Learning STEM concepts through robotics in classrooms will take your understanding skills to a whole new level.
At KENNEDY HIGH, we strive to make learning easy and effective through use of robotics at secondary school level. Building a robot involves inference drawing, model construction, testing and controlling a robot calls for the ability to give precise inputs. When done in a team, robotics calls for collaboration and communication for the project to work. This teaches students valuable life skills in teamwork and communication that are essential for students to be successful in today's world.
What is a Robot?
STEM Robotics
Robots for Kids