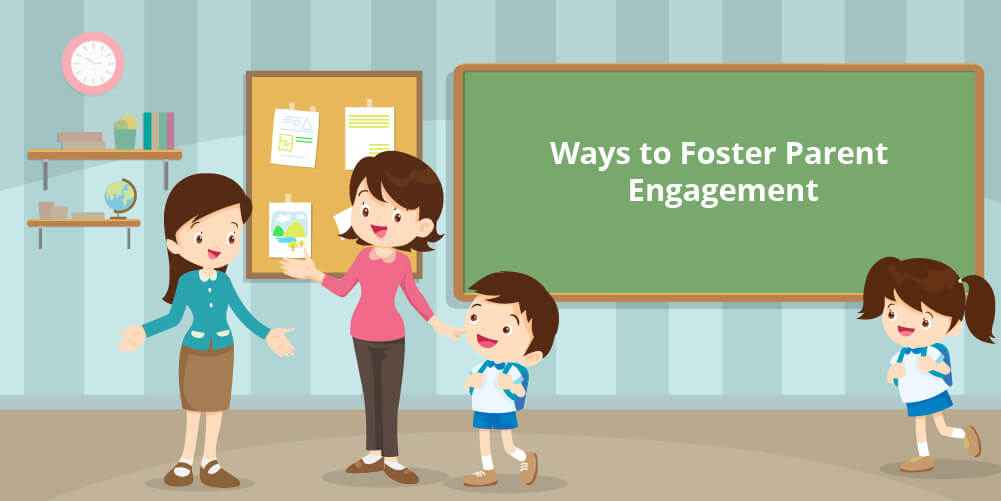 Ways to Foster Parent Engagement
Involving parents in the education of students is crucial to the latter's success. Today, schools need to strive for family engagement to create partnerships between the school and home. For promoting students' success and well-being, these partnerships between the 'stakeholders' are important. By focusing more on fostering personal connections, the school and parents can work together to provide the students a stronger support system helping everyone to make better decisions.
Why It is Important?
When parents and families are closely involved in the student's education system, they perform better. Research says that students with involved parents have better attendance, higher graduation rates, better social skills and more positive attitude than the students who don't get parental support.
Other than learning and bonding with other students in school, there are several influential factors a student adopts outside the school. These external behaviours can be driven in the right direction by parents by getting involved in their educational processes. Generally, kids who are nurtured by their parents under the guidance of family are more social, adaptive and open, compared to those who are raised by working parents with the help of aides. Thus, it is important for every parent to get involved in the educational processes of their children to keep them on track and attain goals under the right guidance.
Ways to engage parents
To promote parent engagement, we need to learn about the families associated with our schools. The first thing for consideration is to make an initial connection, frequent parent-teacher meetings, have thorough discussions on their needs and expectations and then develop the solution prioritizing their preferences. It is very important to identify the real barriers in the growth of the children and fix them to avoid any collapses in future. Knowing the challenges will help schools to develop effective strategies to deal with any possible challenges and also help in the formation of improved connections with parents.
Besides the traditional ways of engagement via letters, emails or phone calls, today, we have numerous productive and easy ways of parent engagement.
Let's have a look at some of the most effective ways of better parent engagement
Digital communication
More than anything else, parents want information about their children. They always want to know how their children are performing in school, what activities they have upcoming on the calendar, when assignments are due etc. By providing easy access to such information through school website and mobile app or Whatsapp group, you can engage the parents better. To make the engagement more effective, you can offer a notification system enabling parents to receive instant, user-specific targeted email, text/voice messages, website and social media alerts for time-sensitive information.
Parents expectations report
Creating an idea of parents' expectations from schools might help them get engaged and respond more. Let parents express what they expect from the school in terms of improvements in their child and activities. This initiative will enable parents to keep track of their children's progress.
Open houses
'Open houses' are events held at schools where its doors are open to the general public to allow them to learn about the institution. These events help students get new perspectives and familiarize them and their parents with the school. They open informal communication channels between the students and their parents and the school staff.
Setting the bar high for children
Inspire parents to set a high, but achievable goal for their kids that will reflect in their grades and performance in school activities. It is important to let your child make a to-do-list at home and get rewarded for completing the same. This encourages them to complete their job and feel accountable in the school as well. Discussing aspirations, goals, responsibilities and mistakes, is equally important to help guide them on their journey ahead.
Parent-Teacher Meeting
Parent-teacher Meetings (PTM) are short meetings between the parents and teachers of students who intend to discuss a child's progress at school and find solutions to his academic or behavioural issues. Frequent face to face interactions with parents is highly desirable.
Establish a parent resource center
If you want active parent involvement, it is important to have a place where parents can gather to share and learn about educational resources.
Today, parental engagement in education matters more than ever. With the help of technology and a little effort by both the school and the parents, students can be trained to face their future challenges with confidence and efficiency.
Parental Involvement in Education
Parental Involvement in School
Parents Role in Child Education