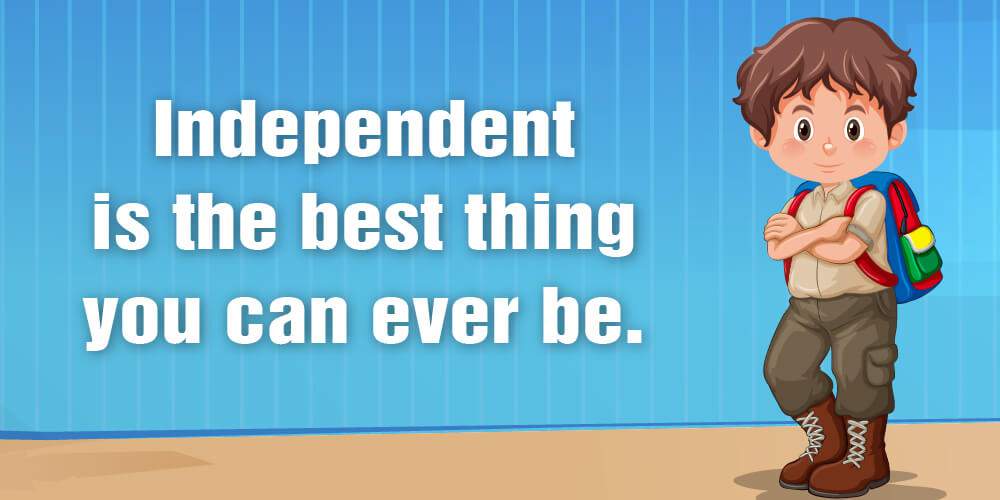 Why Being Independent Matters So Much
It boosts your confidence.
Independence and the ability to hold yourself high is a big boost to your self-confidence and self-esteem. To most, the idea that they don't need to depend on someone else for their own happiness puts them on a track of self-belief. To me, the fact that I can take care of myself is a huge motivator and this drives me to be my own hero!
Less reliance on others
The more you rely on yourself for getting things done, the more you're likely to get done! But it is easier said than done. However, if you keep exercising your independence like a muscle, you will obviously get better with time. Soon, independence will change from a habit to a way of life, and you will achieve things that you never even dreamt of dreaming.
Better decision making
Self-reliance does something magical to your brain. It clears all the foggy, misdirecting thoughts and internal fears in your brain, making it easier for you to think with clarity. It's an amazing feeling to be able to think clearly without any stress clouding your judgment, isn't it?
More time for personal development and creativity
Letting go of external circumstances that influence you can have a big effect on your daily lifestyle. When I was less independent than I am right now, I would waste so much of my time at home, going over situations that I believe could have gone better. Whatever I'm doing, a nagging voice in the back of my head would keep whining, " The day has gone bad, and it's your fault." This self-defeating self-talk would kill my willpower and happiness, forcing me to depend on someone else for my mental health.
But now, I don't care about what circumstances that come my way, I just accept it and move on. As for that evil voice in my head, I've put it to sleep for good. My focus has been shifted to improving and nurturing my own personality.
Increases your self-value
Making the decision to stand up for yourself teaches you the importance of self-worth. When you realize the true extent of your strengths as an individual, you strive to do everything in your power to protect those strengths and nurture them. You accept yourself for your flaws, for your innumerable cracks and quirks, because you now realize that these are a part of your core personality. You take pride in knowing that you are everything you want to be, and everything you will be in the future.
How To Increase Your Independence In Your Daily Life
Learn to enjoy your own company.
Embrace the feeling of being alone. It might seem pessimistic and introverted to distance yourself from normal surroundings for a while. But in a world increasingly focused on speed and competitiveness, solitude is precious and something to be treasured.
Solitude gives you time to reflect on life and greater meanings of the world. Every day, try to spend some of the time you spend alone to focus on yourself. Make time to be introspective and think about your life. Consider where you are and where you're going. Think about your short and long-term goals. It will help you find calmness in a world of growing chaos.
Trust me.
Engage in tasks that require your best efforts.
When you force yourself to focus only on the tasks that require all of your concentration, you block yourself from all others distractions that can lower your self-esteem. For example, whenever I'm feeling a little depressed, I play the guitar, sing or write. These are tasks that need me to be 100% in the moment, keeping my mind free of any distractions that will negatively affect me.
This also works if you're trying to be more independent. If you do things that put you in a state of extreme focus and concentration, you're more likely to do it on your own. The more you do things this way, the less dependent you'll be on other people.
Stop trying to please people. Talk to yourself. Understand what you want and what you need.
Please, please, please read what I'm saying very carefully: NOTHING MATTERS MORE THAN THE FACT THAT YOU NEED TO KNOW YOURSELF TO HELP YOURSELF. It doesn't matter whether you just want to solve a personality type test or if you're trying to get yourself out of a situation of self-despair. If you don't know what in the world your mind thinks of itself, you're busted. Why? Because you don't know what you really want in life. You don't know why some things make you smile and some make you cry, and so you don't know how to make yourself better.
Getting to know yourself isn't a cakewalk. But just like getting to know anyone else, it requires time and effort. It requires that you go out of your way to make sure what you're doing makes sense and feels right not to your friends, your relatives or your pet cat, but to you. You must be willing to be vulnerable to yourself, in order to fully, truly be yourself.
Do you think you can do that?
I'm pretty sure you can.
Overcome self-hate.
Independence in my life has opened me up to a beautiful, vivid world outside of my bubble of fears and doubts. It has allowed me to treat life, not as a task to tick off a list, but as a gift. I have stepped way outside my comfort zone, something that I never would have done, and in doing so, I have been able to enjoy my life with clarity and a sense of gratitude. I have stopped looking at myself as insignificant, and I have started believing that I do have some value in this world.
The last one week has made me feel much more alive than I've felt in a long time. I've tried new things, made a fool of myself, pushed myself to new limits, and most importantly, GROWN FROM THE INSIDE.
But opening up to myself at such a level was not easy. to do. It was something I had been putting off for a long time because I was too afraid to know myself. But now that I have, I feel free.
If you're reading this, first of all: thank you! You successfully read an 1100-word essay! Second: Thank you for your time and attention. It really means a lot to me that my writing gets noticed so much, and words cannot express my gratitude towards every single one of you who reads my stuff.
This post has been pretty personal for me (not that the others aren't) because it's made me think about my own struggles with self-love. It's made me realize that ever since I started blogging 7 months ago, I've become WAY stronger and happier than I was, say, a year ago. I've learnt to love myself on a scale that I've never done before, and all the credit to my happiness goes to you, dear readers. You have made my life colourful, exciting, and full of amazing opportunities.
I love all of you. Thank you for making my life beautiful.