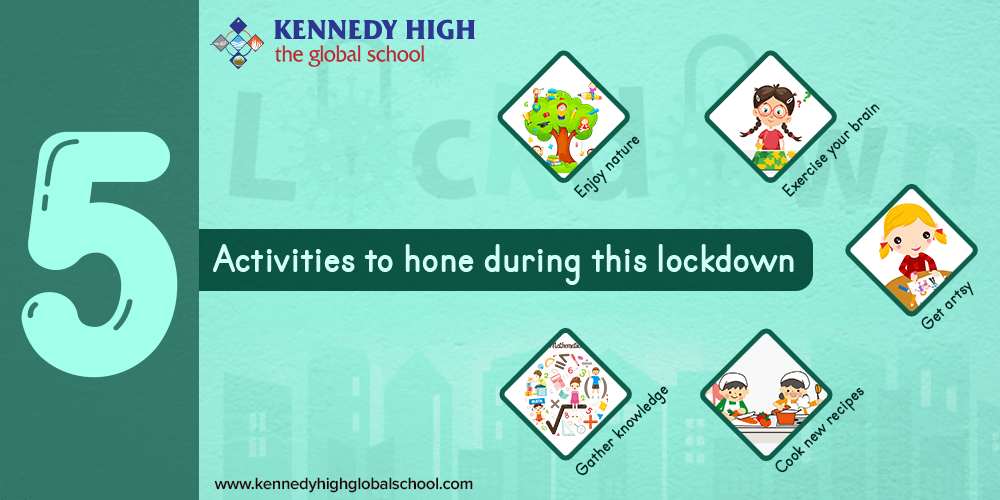 5 activities to hone during this lockdown
Coronavirus has hastened the arrival of 'staying home' season. While students eagerly wait for summer vacations, it was from mid-March that conventional brick and mortar schools shut off and online learning took over. With the temperatures soaring high outside and coronavirus spreading like wildfire, children are bound to stay locked inside their houses, but it is indeed one of the happiest periods in every student's life. However, it is one of the most worrisome moments for the parents. It is because while kids stay back at home, they run of things to do and the parents run of ideas to keep them engaged.
It is important for parents to keep their kids active and engaged during this unprecedented break to not only keep them entertained but also to enrich their other skills apart from studies.
Here are some fun and engaging activities for students to hone during this lockdown –
Enjoy nature –
While staying indoors is highly recommended, staying close nature is also important. Start your own garden space in your backyard or the windowsill in small pots. Use old coffee cans, milk jugs, plastic cups and other containers and grow small herbs. You can also make bird feeders and help birds drink water and food and survive the scorching heat. Pick your own liking and stay close to nature and enjoy your free time.
Exercise your brain –
While studies are not at its peak, don't forget to keep your mind active. You can do it by joining an online reading club or downloading numerous books, which are available on the internet. Reading is good as it keeps you occupied, gives you the knowledge and also provides entertainment. Also, writing your own journal is a good activity to hon during this lockdown. Keep a record of the important happenings and you can share it with your friends once this hard time is over. Writing a comic book, playing puzzles, chess, solving riddles are also some of the activities that will keep your brain active and your mind fresh and entertained.
Cook new recipes –
With little to no work, this is a good time to take up a cooking project. Do some baking, make healthy breakfasts, try new dishes and enjoy this time with good food and family. Kids must take parents supervision while working in the kitchen.
Get artsy –
This lockdown is indeed a good time to let your inner artsy take wings. Make paintings, create statues, interesting wall hangings, sing songs, create new music, choreograph dance – let your creative zeal takeover you, keeping your studies behind.
Gather knowledge –
This is the ideal time to gather knowledge apart from traditional studies. Many universities, applications, websites are offering skill-based courses, new language learning classes, try opting for them. Also, with the availability of information all over the internet, subscribe to various sites and read interesting facts, know current affairs, and become a pro. Next time when you meet your friend share all of these with them and hear what they have learnt during this indoor time.
While all of these will keep your children busy and entertained during this lockdown, do not forget to finish the regular homework that is provided by the schools and institutions through online.